Ministries
| | | |
| --- | --- | --- |
| At Arp Emmanuel Baptist Church we have something for the entire family! We offer a variety of ministries that encourage spiritual growth and fellowship for people of all ages. We encourage you to explore our website and visit our church to see what we are all about. We hope that we can encourage you to get connected to our community of believers who are passionate about their love for the Lord. | | |
---
Children's Ministry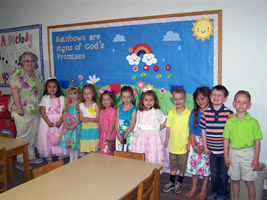 Sunday School
Arp Emmanuel Baptist Church is pleased to teach the truths of the Bible to your children from newborn to sixth grade. Our teachers focus on teaching God's Word through a variety of creative activities that clearly focus on treasuring God's Love as seen in His Son, Jesus Christ. Sunday School meets from 9:30-10:30AM each Sunday in these classes: Babies and Toddlers, Two Year Olds, Four and Five Year Olds, 1st and 2nd Grades, and 3rd - 6th Grades.
AWANA
Each Sunday evening from 5-7PM during the school year, AWANA helps children to have fun exploring the Bible. (See more information below under AWANA.)
Children's Choirs
Each Wednesday from 7-8PM during the school year, our choirs (3 years old to 3rd Grade and 4th to 6th Grade) meet to sing and praise the Lord. Each choir sings at least once a month during the morning worship service at AEBC. (See more information below under Music Ministry.)
Vacation Bible School
Each summer our children spend several days having fun, making crafts, and studying God's Word. You'll see many of those activities here.
---
Youth Ministry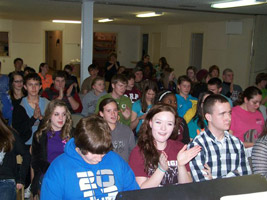 The Youth Ministry at Arp Emmanuel is designed to meets the needs of the WHOLE student: mind, body, and spirit! There are times for active recreation and to meet new friends, periods of study to explore God's truths from the Bible, and times for worship to reflect on what we've learned and to make life changing commitments.
Whether it's in our Sunday morning Sunday School, morning or evening worship services, Wednesday night Youth service (we call it "Time-Out"), or participating in our music ministry opportunities, YOU have a place to serve and/or be ministered to at Arp Emmanuel Baptist Church.
A highlight of the summer for many of our youth is the time they spend away at Youth Camp. You'll see some of those highlights here. Another summer activity is our annual mission trip. This year we went to Wichita, Kansas. You can see several of our activities here. During the school year our youth are actively involved in activities at their schools. Click here to see many examples of our youth at school. Our youth also enjoy attending Christian events. You'll see many of them here.
---
Senior Adult Ministry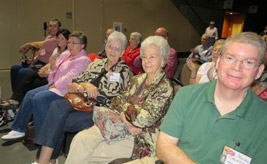 Arp Emmanuel loves seniors! You can find a place to serve and be refreshed here. Visit our Sunday School and hear the "Old, Old, Story" new and afresh! Attend our first Monday of the Month 6:30 p.m. "Joy Club Supper". (It's pot-luck, so share your favorite secret recipe with us!)
Take a look at the Joy Club activity calendar by clicking here, and tag along on our next adventure! Click here to see photos from our trip to Glen Rose, or here to see photos from our Christmas Party. If you are a widow in need of a friend, every other month our deacons cook and serve you a delicious meal. It's a great evening of sharing and encouraging! YOU are highly valued and have not been forgotten. You are welcome at any of these events!
---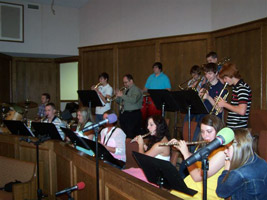 Arp Emmanuel's music ministry is definitely "on task"! "How's that" you ask?
Wednesday Night Choir Rehearsals
K-3rd grades
7-8 p.m.
(during school year)
4th-6th grades
7-8 p.m.
(during school year)
Adults
8-8:40 p.m.
(all year)
Sunday Music Rehearsals
Instrument ensemble
9-9:30 a.m.
(all year)
Youth choir (7th-12th)
5-6 p.m.
(during school year)
And we don't just rehearse - WE SING! Children's choirs sing in Sunday morning worship once a month. Youth choir sings every Sunday night in worship. Adult choir sings once or twice a month in worship. Ensemble plays nearly every Sunday morning!
You sing? You play? You look good in a choir? You've got a place at Arp Emmanuel! Come sing to the Lord!
---
Sunday Morning Bible Study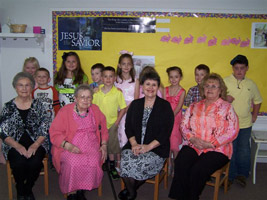 A church is not a church unless it is personal. Sunday Morning Bible Study is a ministry that does just that! Attending a Sunday Morning Bible Study class will help you get to know some of the great people that make up Arp Emmanuel. Sunday Morning Bible Study is not only a place where you can grow in your understanding of God's Word, but it is also a place where you can build meaningful relationships with others.
Sunday Morning Bible Study begins each Sunday at 9:30AM.
---
Time Out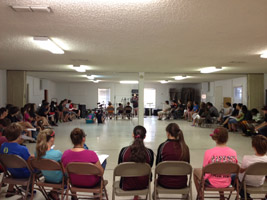 "Time Out" is the place to be on Wednesdays in Arp for students 7th-12th grades. The fun starts at 6:30PM and goes to 8PM. We'll have snacks, recreation, group games, worship and a Bible-based devotional!
---
Girl's Bible Study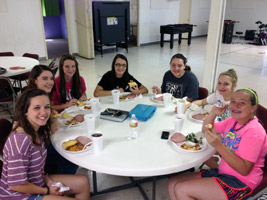 Girl's Bible Study (7th-12th) meets every Tuesday at 10AM and finishes at noon with lunch! Group leader Raquelle Langlinais would love to see you there!
---
AWANA stands for:
Approved
Workman
Are
Not
Ashamed

Derived from 2 Timothy 2:15: "Study to show thyself approved unto God, a workman that needeth not to be ashamed, rightly dividing the Word of Truth." The three age-appropriate clubs; Cubbies, Sparks, and T & T participate each week in learning God's Word by memorization; praising and worshipping and applying God's Truths; and recreating and fellowshipping using games and activities.
AWANA meets each Sunday night throughout the A.I.S.D. school year from 5-7PM. Click here to see photos from our 2014 AWANA Awards Program.
---
Women's Ministry
The mission of Arp Emmanuel's Women's Ministry is to help enable women to grow toward a passionate and mature life in Jesus Christ. Donna Dunham serves as coordinator for this ministry.
---
---