Hello Arp Emmanuel Family
We are extremely excited to meet in-person Sunday School and Worship this Sunday, March 7 at 9:30AM, 10:40AM, and 6:00PM. Many may still feel hesitant to return to a crowd of any size, but if you feel led to attend, please know we are ready to join with you in worship and study. Our classrooms have been further distanced with tables where desired and our Sanctuary still has taped restraints to guarantee social distancing. The wearing of masks is strongly requested. We have seen a notable decrease in cases within our church recently and believe it is time for the Church to study, worship and encourage each other: to be the Church! We would love to see you Sunday morning!
God Bless You!
Brother Ron
---
The Live Stream will go Live on Facebook and Instagram just before we start the service. The Sunday, March 7 message will be available for download at 9:00AM Sunday morning and the prior Sunday's message will be available for two weeks.
The message from the previous Sunday, February 28 is available
here
.
---
Welcome to Arp Emmanuel
Upcoming Events
Schedule of Activities
Thank you for visiting our website! We are glad you stopped by! Whether you are searching for spiritual answers, exploring your personal faith, or just looking for a church home, we invite you to come, just as you are, and join us for a worship service!
---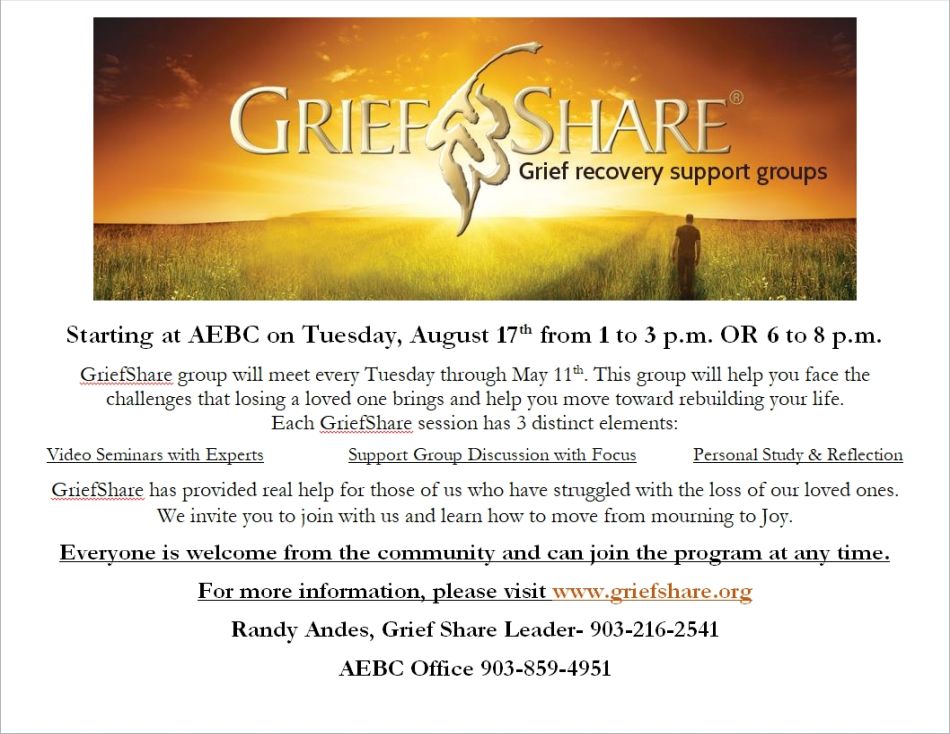 If you have lost a spouse, child, family member, or friend, it may be hard for you to feel optimistic about the future right now. You've probably found there are not many people who understand the deep hurt you feel. This can be a confusing time when you feel isolated and have many questions about things you have never faced before.
Click on this link to see the GriefShare promotional video.
GriefShare is a group that meets weekly to help you face these challenges and move toward rebuilding your life. Each GriefShare session has 3 distinct elements:
| | | |
| --- | --- | --- |
| Video Seminars with Experts | Support Group Discussion with Focus | Personal Study & Reflection |
The GriefShare program has provided real help for those of us who have struggled with the loss of our loved ones. We invite you to join with us and learn how to move from mourning to Joy.
Starting at AEBC on Tuesday, February 16th from 1 to 3 p.m.
Everyone is welcome from the community and can join the program at any time.
To join, please click on the link below & then on the "Register for this group" icon:
https://www.griefshare.org/groups/130913
For more information about GriefShare, please visit www.griefshare.org